Luxury Chalet in South Tyrol
Exclusive nature holidays in the Dolomites
Whether you love modern architecture or classic South Tyrolean flair – the Mountain Lodge Tamersc, with its two buildings combining traditional character and modern architecture, is a place you will feel completely safe and snug. In this beautiful chalet for 6 people, you'll find yourself in a dream home made of larch wood.
Have you ever lived so perfectly?
The interior is dominated by strong, clear lines, few frills and the furnishings are intelligently integrated into the house: in the bedroom areas the wardrobes act as both storage space and room dividers. Doors are hardly recognisable as the wooden walls almost appear to be fully walk-through. A small writing desk is part of the staircase and the kitchen equipment is simple and functional.
The perfect symbiosis of tradition and modern architecture
Throughout the whole house the floors, walls, ceilings, staircase and the built-in furniture are made of bright larch wood. The open kitchen and the dining table are made of solid pine. The corner bench and the lounge chairs in which you can enjoy a drink or two are a classic South Tyrolean detail. From the loden covered sofa, you can enjoy impressive views of the meadows, mountains and spruce trees. An open stove set in the combined living and dining area adds the perfect finishing touch to a perfect mountain hut atmosphere.
Harmony in touch with nature
The exterior facades of the main and secondary building – a symbiosis of traditional and contemporary architecture – blend harmoniously into the surroundings of the nature park. Slits of light and panoramic windows bring out the highlights. On the interior you are surrounded by warm wooden tones: the ceilings, the floors, the furniture – everything looks authentic, modern and cosy at the same time.

130 m² of simple elegance
130 m² accommodates 6 people. The main house consists of two floors; the secondary house consists of a bedroom with two single beds, a shower and a WC.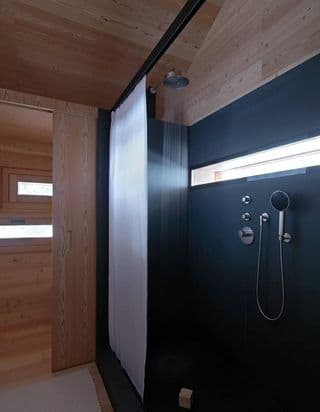 Enjoy the silence
Cleverly conceived
The domestic utilities are cleverly hidden: The floor heating spreads its warmth. The air conditioning is environmentally-friendly and works inconspicuously behind the scenes using hidden vents. The integrated light slits set the perfect lighting. The panoramic windows in the living area promise beautiful views of the nature park. Huge, wooden sliding elements in both the main and secondary building provide shade if necessary. Light switches and lamps are polished with buffalo wax.